1854
Elmwood Established. W. J. Phelps settled in Peoria County in 1834. Founded coal mining partnership with James Lee and built home near the mines and train station, dubbing the area "Elmwood" due to the abundance of elm trees. Secured post office for the settlement in 1854 making Elmwood and Elmwood township official.
1864
William J. Phelps and H. P. Tracy (cashier) organized first bank in Elmwood.
1865
Building located in Tracy's dry goods store. Phelps sells to Tracy and nephew Fred Tracy. Name is changed to H.P. Tracy & Co.
1886
H.P. Tracy and Company go into receivership. On December 6th, 1886 "Clinch and Lott Bankers" opens.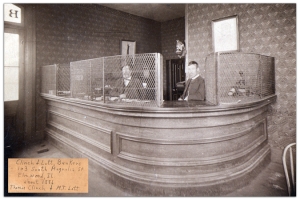 1887
W. H. Lott killed in Chatsworth train wreck. Moved into 105 S. Magnolia building Henry Schenk is taken in as partner and becomes "Clinch, Schenk, and Lott Bankers" (1/1/1888).
1889
Farmers and Merchants owners Edwin R. Brown and Deloss S. Brown sell to W. H. Lott and Thomas Clinch (active manager).
February 6, 1912
First State and Savings Bank organized by W. N. Potts (cashier), John M. Hart (President), and F. W. Potts open at 102 W. Main. Maynard Tarpy was assistant cashier.
April 1, 1919
State Law requires all banks to be incorporated, becomes Farmers State Bank 5/27. Organized by Walter A. Clinch, Harry Schenck, M. T. Lott, Charles E Clinch, and John E Barrett.
1922
Clifford Wiley Lott employed as assistant cashier.
1923
Modern bank building constructed. Marshall T. Lott served as a bank executive for over 60 years, retiring as President on January 1, 1948 then serving as a director.
May 3, 1930
Became First Farmers State Bank after merging with First State and Savings Bank. "First" fell away in 1957. Headed by Clifford W. Lott —depression underway.
1945
C. W. Lott becomes president succeeding his father (Marshall). Robert Lott – Came back to Elmwood after serving in WWII; joined the bank in 1945. At the time of his death, he had been at the bank for 64 years. As the fourth generation Lott to run the bank, he was a strong defender of independent community banking. Honored in 2009 as an Outstanding Member of the Community Bankers Association of Illinois.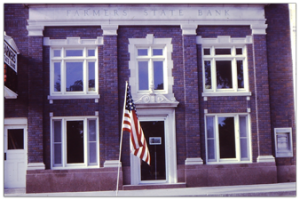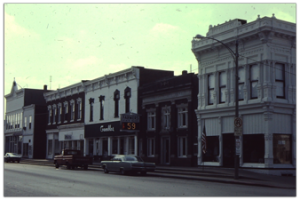 1973
Fred and Pam Paige came back to Elmwood after six years in the military; Fred joined the bank as Vice President.
January 2012
Jennifer Beard named President.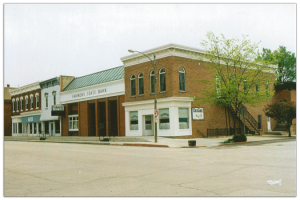 2013
Honored with designation of Minority Owned Bank by the Minority Bank Deposit Program of the United States Department of Treasury. Farmers State Bank is one of ten minority-owned banks in Illinois and the only one in down state Illinois.